Valentines day, the day dedicated to the celebration of love, is forbidden in Saudi Arabia, even for married couples. In Saudi Arabia any kind of interaction between people of opposite sex are forbidden, even just talking. Any public display of affection is taboo.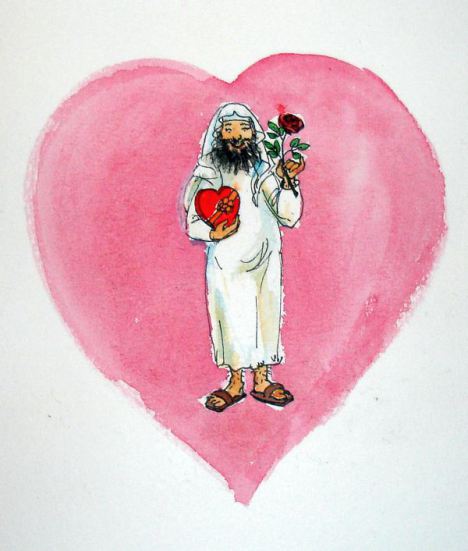 Religious police "Anti Valentine patrols" roam the malls and shops, they confiscate any red or heart shaped items days before the infidel 'V-day".
All this makes Valentines day especially romantic in Saudi. Imagine the dangers, trials and tribulations, not to mention he enormous costs your loved one has gone through to get you that contraband red rose, and heart shaped box of chocolates!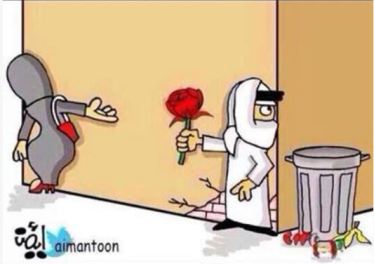 From AFP Friday 14 2014
Red roses lurk hidden in flower shop back rooms and heart-shaped chocolates are sold under the counter, but Saudis still manage to buy Valentine's gifts and defy the religious police.
Florist Hussein came up with a simple solution to a ban on red tokens of love: he filled his window with white roses, orange irises and violet hydrangeas.
"I've hidden everything red in the shop, so when a religious police patrol comes along, they find nothing to complain about," he said.
Hussein's shop window may be blooming with white, orange and violet, but he still has the real thing — red roses — out the back.
"I've sold at least 350 red roses at 20 riyals ($5, 3.90 euros) a pop. Many women call us on the phone to order roses, because they fear the religious police."
Kumar, another florist, was persuaded by a Muttawa visit not even to consider flouting the Valentine's Day ban. However: "We're going to sell these to a chocolate shop," he said, pointing to bouquets of red flowers in a back room of his store.
Confectioners do have chocolate hearts for discreet sale, but only to the right people. "Of course we have them, but the religious police came by and warned us against selling them," said one chocolate shop owner who asked not to be identified. "We hid them because we don't want any problems," he added, smiling, indicating that an illicit transaction involving the chocolate contraband would be more than acceptable.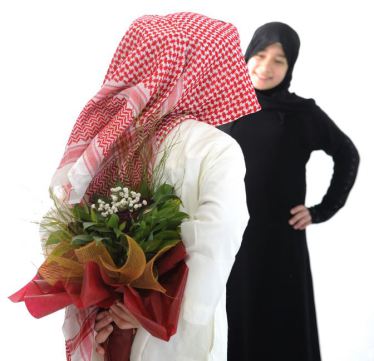 This year in Jeddah, a city more open and relaxed than most of the rest of Saudi Arabia, some florists have been openly selling red roses, and are unafraid to give their names.
"The religious police didn't come. We're doing nothing wrong anyway," said Abu Zakaria, who runs a flower shop in the north of the city.
Another man, Thamer Hussein, said some people with romantic yearnings marked the Valentine's festival a day in advance, to ensure the experience was hassle-free. "Some young people celebrated St Valentine's Day on Wednesday evening, with small parties and exchanges of gifts," he said.
Read more:
 Ahram online
Filed under: culture, Freedoms, gender, relationships, religion, Saudi Arabia, Saudi culture, Saudi customs, Uncategorized | 63 Comments »