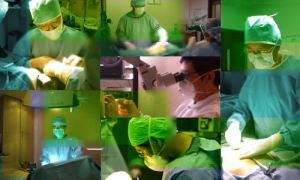 In Saudi Arabia cosmetic surgery is very popular in surgery whether it is getting permanent eyeliner affixed to the eyes or more intensive surgery such as a tummy tuck or breast enhancements (whether reduced or increased). And the latest craze to hit the streets is laser liposuction. Laser liposuction is like having a tummy tuck but without having to undergo major surgery and cutting of the stomach. Now I can speak from personal experience on the pain and slow recovery that comes after having an "enforced" tummy tuck as the tissue and muscles from my stomach were required for reconstruction surgery I had due to cancer. So to think for those who want a tummy tuck without the slice of the knife, I can certainly understand the enthusiasm to have the laser procedure done rather than the traditional surgical procedure.
Laser Lyposuction, also referred to as "SmartLipo" is a procedure described as "hot butter sliced by a knife." And according to the Fit & Healthy web site, smartlipo leaves little to no scarring and no stitches required. Whereas of course the traditional tummy tuck has one cut across the entire abdomen and leaves a lasting scar. For more information on the pros and cons of Laser Lyposuction, "Smart Lipo" versus the traditional tummy tuck, see this link: http://ifitandhealthy.com/laser-liposuction-smartlipo/
With the increased interest in cosmetic surgeries this is a very profitable business in the Kingdom. There are many private clinics throughout the Kingdom which specialize in cosmetic/plastic surgeries. The patients are both men and women and liposuction remains the most popular procedure performed.
But wait a minute…is cosmetic surgery allowed in Islam?
According to Sheik Muhammad ibn Adam Al-Kawthari of the Hanafi fiqh list, any surgery for the purpose of beautifying oneself is prohibited. But on the other hand, if there is a deformity and cosmetic surgery can correct the problem, then it is allowable. http://www.themodernreligion.com/misc/hh/cosmetic-surgery.html So does that mean in the case of breast enhancements or tummy tucks, the present condition of a patient's body before surgery is viewed as a deformity?
Filed under: Health, religion, Saudi Arabia, Saudi culture, Saudi customs, Saudi education, Technology, travel, Uncategorized, Women Issues | 27 Comments »