As an  active cancer warrior whose own journey with breast cancer began in Riyadh, I continue to take a keen interest on what developments are taking place throughout the Kingdom to spread further awareness of breast cancer, its impact on the patient and family and the importance to be proactive.
Earlier this week in Riyadh, the Ministry of Health took a proactive stance on bringing Breast Cancer Awareness into Granada Mall.  In addition to the display inside of the mall, there was also a mobile unit where women could get mammograms.
Friends of mine, the Gomaas, in Riyadh took photos of the event and Amber Stone kindly  provided some subtitles and translations.
Get checked….and tell your loved ones
Now is the time
Get regular check ups
See your doctor if you have any of these:
lump, thickened tissue, change in appearance of breast (color, shape, size), change in nipple (pain, itch, discharge, size, inversion)
mass under arm
**Don't worry unnecessarily – any of these symptoms can be due to other conditions, but it's best to see a doctor to be sure
Risk Factors:
Over age 40, early puberty (younger than 12), late menopause (older than 55), overweight, no children, having children after age 30, did not breastfeed, sedentary lifestyle, smoker, family history of breast cancer, close relative with breast cancer (esp. mother, sister, daughter, aunt)  previously had breast cancer
To Decrease Your Risk:
30 min. exercise per day, maintain healthy weight, eat fruits and vegetables, breast feed your children, don't smoke, get regular checks from your doctor including mammograms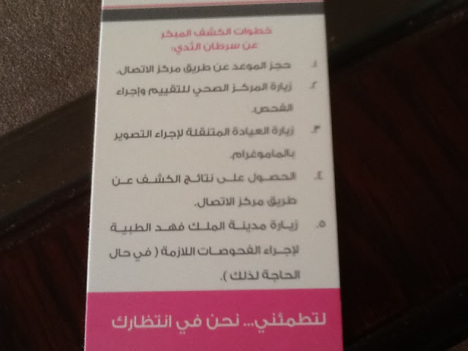 To Get a Mammogram:
Make an appointment
Visit the clinic or go to mobile unit and get mammogram
Get results.
If necessary, visit King Fahd Clinic in Medical City for more tests
I also encourage women who have been diagnosed with breast cancer and family members concerned about their loved one to speak out and share their feelings.  Do not be reticent and hold the feelings in.  Part of the battle and to help hasten the healing is being proactive about the disease.  I am happy to support and respond to queries from anyone who has cancer touching their lives, whether it be breast cancer as my own, leukemia which took the life of my Saudi husband or any other type of cancer.  You can email me directly at [email protected]
Filed under: Abdullah, breast cancer, cancer, Health, Saudi Arabia, Saudi blogs, Saudi culture, Saudi Living, Uncategorized | Tagged: blogging, cancer, culture, gender issues, Riyadh | 5 Comments »